Introduction
When it comes to finding the perfect stairlift to improve mobility and enhance independence, making the right choice is crucial. With numerous options available in the market, it's essential to consider the advantages of selecting a local stairlift company. By opting for a trusted local supplier and fitter, you can enjoy personalised care, reliable support, and unparalleled peace of mind throughout your stairlift journey.
Close-Knit Community
Local stairlift companies are often deeply rooted in the community they serve. Choosing a local supplier means supporting businesses that have invested their time and efforts into building strong relationships with customers. With a shared sense of belonging, local companies like Dolphin Stairlifts South-West are committed to providing exceptional service and creating positive experiences.
Prompt Response and Convenience
One significant advantage of working with a local stairlift company like Dolphin Stairlifts South-West is the quick and efficient response we can provide. When you need assistance, whether it's for installation, repairs, or maintenance, our local team can typically address your needs promptly. You'll benefit from shorter waiting times, flexible scheduling, and the convenience of having experts just around the corner.
Personalised Expertise
As your local stairlift company, Dolphin focuses on providing a personalised experience tailored to your specific requirements. With a thorough understanding of the local area and its architectural nuances, we can offer expert advice on the most suitable stairlift solutions for your home. Our in-depth knowledge ensures that you receive a customised installation, maximising safety and functionality.
Reliable After-Sales Support
After your stairlift is installed, ongoing maintenance and support become crucial. Your local stairlift company Dolphin, pride ourselves on our commitment to customer satisfaction and long-term relationships. We offer comprehensive after-sales support, including regular servicing and prompt response to any issues that may arise. Our proximity allows for faster resolutions, ensuring your stairlift remains in optimal condition.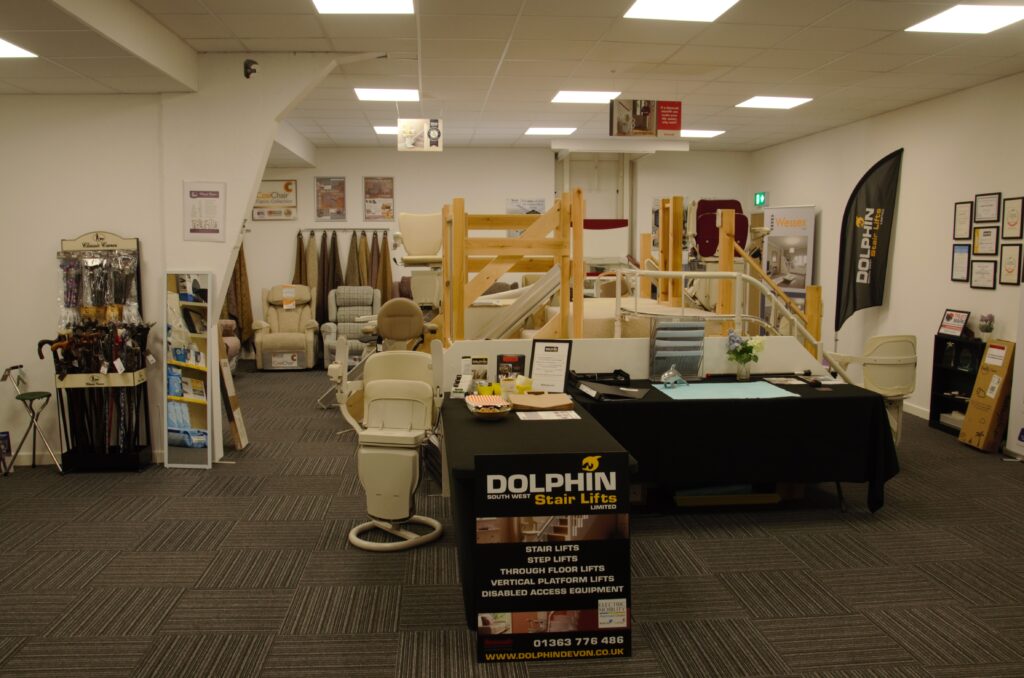 Trust and Peace of Mind
Choosing Dolphin as your local stairlift company gives you the advantage of working with a trusted, reputable business within your community. We value our local reputation and are motivated to maintain the highest standards of service. With positive reviews and word-of-mouth recommendations from neighbours and friends, you can have peace of mind knowing you are in reliable hands.
Family Run Business
Moreover, when you choose Dolphin Devon Stairlifts you are supporting a family-run business. Dolphin Devon is built on a foundation of strong values, dedication, and a deep sense of pride. Being family-run means that every interaction is infused with a personal touch, as we understand the importance of treating each customer like a member of our own family. By opting for a family-run stairlift company, you become a part of our extended family, receiving not only top-notch products but also the warmth and care that comes from dealing with people who genuinely value your well-being.
Conclusion
Selecting a local stairlift company like Dolphin offers a range of benefits that extend beyond the installation process. The personalised care, quick response times, and reliable after-sales support make a significant difference in your stairlift journey. By choosing a local supplier and fitter, you not only invest in your mobility but also contribute to the growth and prosperity of your community. Embrace the convenience, expertise, and peace of mind that comes with a local stairlift company—it's a decision you won't regret.