An Outdoor stairlift can provide access to areas of the home and garden that have become inaccessible. At Dolphin Devon Stairlifts we can advise, install and service outdoor stairlifts which can open up your outdoor spaces and make them convenient, safe and accessible once again.
Whether you have a long flight of outside stairs or just a few steps going down to the basement or up to the garden, installing a stairlift provides a comfortable, safe and reliable way to ensure external steps are never a problem again.
What is an Outdoor Stairlift and how should it be designed?
Similar to indoor stairlifts, an outdoor stairlift is a motorised seat that runs up and down a staircase on a track. Unfortunately many external stairlifts are simply indoor stairlifts placed outdoors with some adjustments made in order to waterproof the mechanised parts – which can lead to a high failure rate.
Modern outdoor stairlifts should be designed from the ground up to be used outdoors, as with the Stannah external stairlift for straight stairs.
At Dolphin Devon we will ensure your Outdoor stairlift is designed, manufactured and installed correctly with the outside in mind – which in turn will lead to many years of hassle-free and low cost use.
Outdoor stairlifts we recommend
The Stannah 320 is a slimline external stairlift for straight stairs. It has been designed from the ground up to be used outdoors while keeping the same functionality and ease of use as an internal stairlift.
A slim strong rail is fitted to the stairs and not to the wall, even if it's solid concrete, wood or metal. The padded stairlift arms, seat and footrest fold away to clear the stairs for other users.
The swivel seat is operated by easy-to-use levers on either side of the stairlift, allowing you to gently turn the chair toward the upwards direction and be in the easiest position to dismount.
A self-charging battery powers the stairlift so it's always ready to use, even in the event of a power cut. The battery charges automatically when the stairlift is parked.
Supplied with a protective cover to keep your stairlift dry when you're not using it. Simply fold the stairlift and pop the cover on.
Manual swivel seat allows the user to step off the stairlift safely at the top of the stairs. The chair can remain swivelled, creating an effective barrier, or turned back against the wall.

Right-handed or left-handed d

irectional controls

Self-charging battery, works even if there is a power cut




Folding seat, footrest

and arms

Stops automatically if it meets an obstruction
The keyswitch can be used to completely immobilise the stairlift
Folds flat against the wall to clear the stairs for other users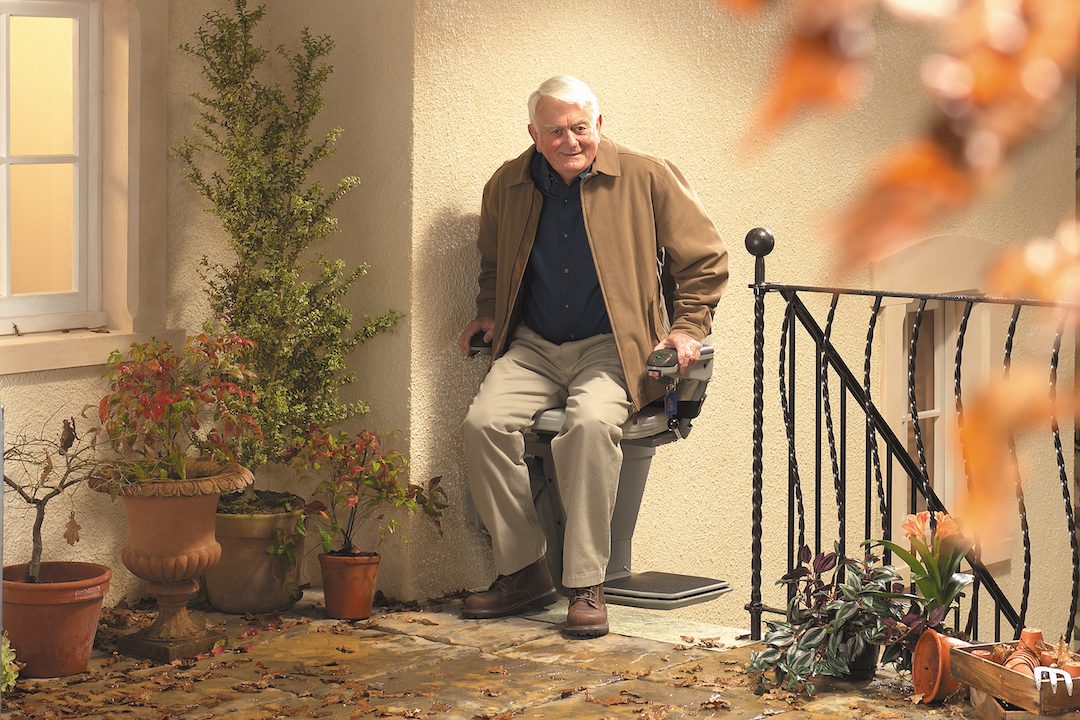 Bruno's Extreme-Weather Outdoor Straight Stair Lift is designed to withstand varying climates, the Elite Outdoor stair lift combines easy functionality with sturdy design. A lightweight cover travels with the chair lift to provide protection when not in use. Count on your Elite Outdoor stair lift year round.
The Elite Outdoor stairlift has a capacity of 30 stone (190 kg).

Marine-grade vinyl padded seat and armrest
Performance tested 0°F-125° F (-15°C - 52°C
Designed for maximum open space on steps
Anodized aluminum rail with covered gear rack
Water-proof cover travels with chair for weather protection
Extended rail lengths available
Reliable performance even in a power outage
Offset swivel seat; flip-up arms; folding footrest/seat
Open up your outdoor spaces and restore access to the parts of the garden you love. Don't hesitate to call for advice.