Platinum specialise in the tailored design and manufacture of domestic stairlifts, offering a superior product to their off-the-shelf competition.
Platinum Stairlifts is based in the UK and manufactures all stairlifts at its state-of-the-art facility in Yorkshire. Platinum Stairlifts has been supplying high quality stairlifts since 1996, with every stairlift custom built to the needs of the user and their home.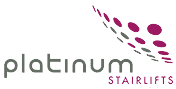 Here are some of our recommended Platinum stairlifts, you can find more information on our product pages, click on the products below to find out more.