Buying a Stairlift or Lift
As independent suppliers and fitters of stairlifts and lifting solutions, here at Dolphin South West, we offer a selection of the best lifts from a variety of
manufacturers
.
Which type of stairlift or lift do you need?
For a straight flight of stairs a
straight stairlift
is ideal. Where there are turns or complex bends, you'll require a
curved stairlift
to follow the shape of your stairs. Or you may need an
outdoor stairlift
– we recommend models designed to withstand the variety of Devon weather!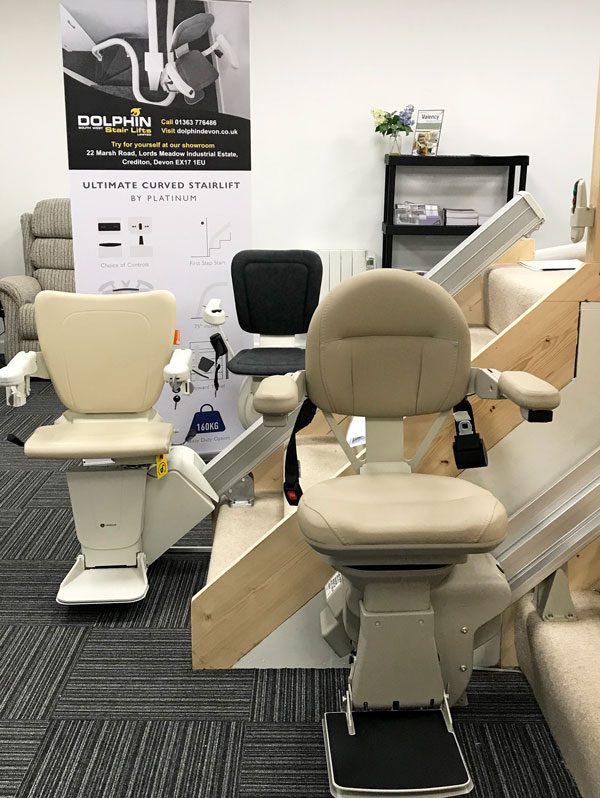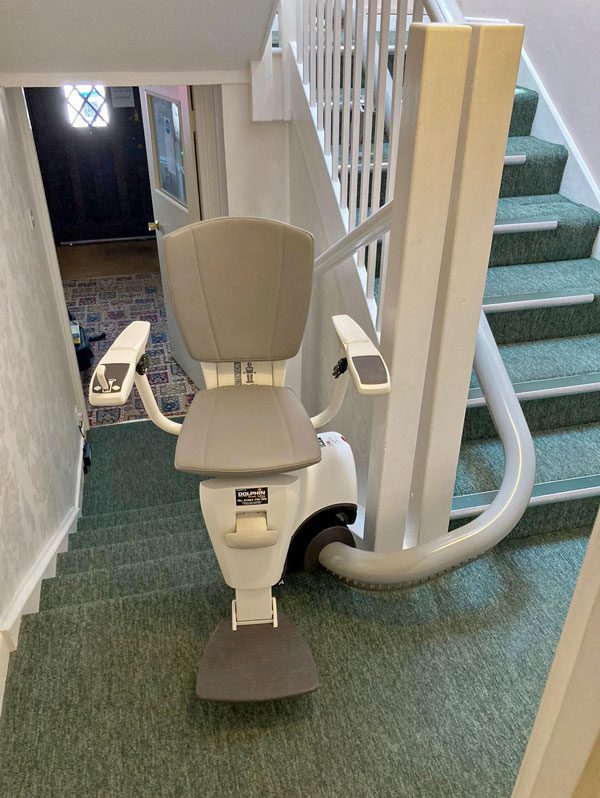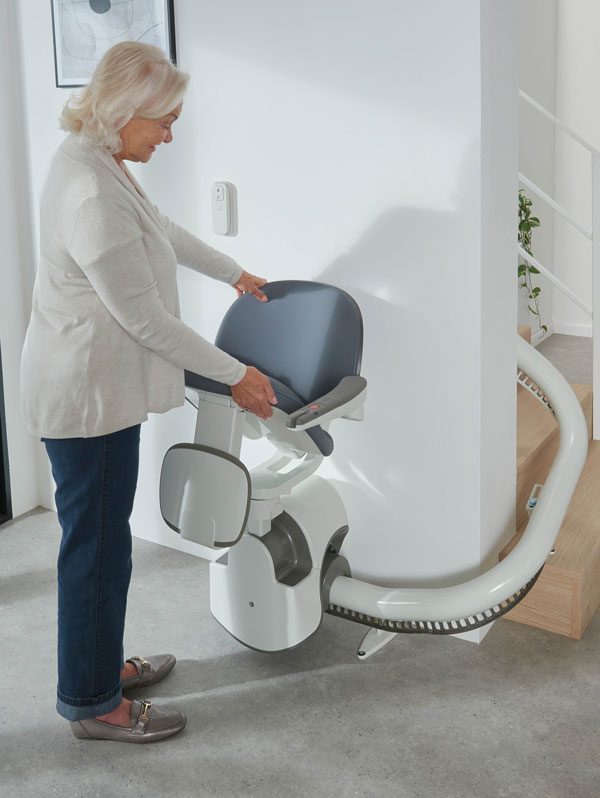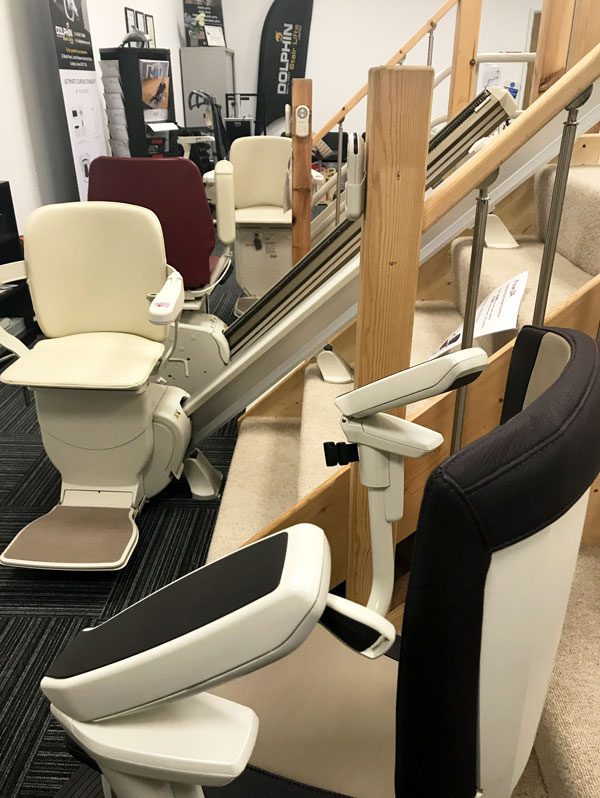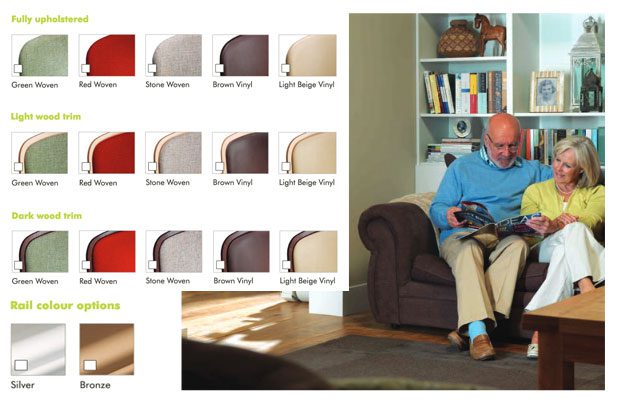 Designed to blend with your home
Our team can help you find the perfect stairlift or lifting solutions to suit your circumstances and provide options that will help your new lift to blend with your home.
We offer practical advice based on many years' of experience – supplying affordable and quality stairlifts to all the Local Authorities and private clients throughout Devon. A guided viewing in our showroom is a valuable way to help choose your stairlift. Simply
get in touch
to discuss what you need and we can provide you with a free no-obligation quote or book you an appointment to visit our showroom.
---
Stairlift Step-by-step Guide
Stairlifts are simple-to-use and have been designed to make your life easier, helping you rediscover your independence. This step-by-step guide demonstrates some of the key features of a stairlift.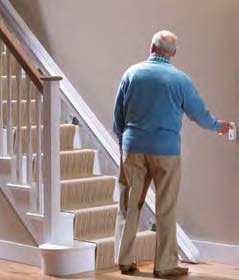 1. The wall-mounted controls at the top and bottom of the stairs make it easy to call the stairlift wherever you are.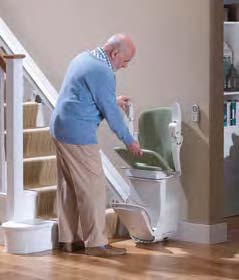 2. Simply unfold both armrests, followed by the seat. The seat-to-footrest link will automatically lower the footrest down too.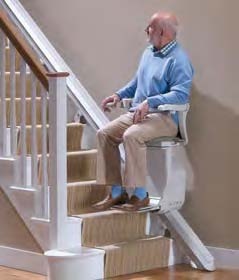 3. The seat load sensor will allow you to take your time to get comfortable before the chair moves. Fasten your seatbelt for extra security.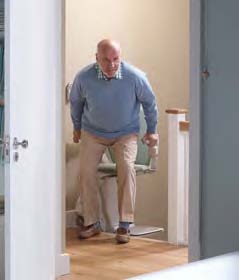 4. When at the top of the stairs, the footrest will stop level with your landing. You can then swivel the chair to face the landing to alight safely.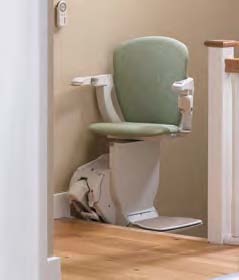 5. For added safety, the stairlift can remain in the swivelled position to form a barrier at the top of the stairs.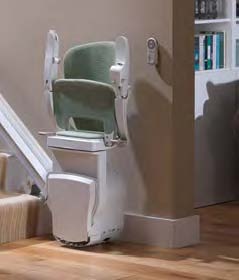 6. When not in use, your stairlift folds neatly against the wall, giving you and others plenty of space.
Where there are no turns or complex bends in your staircase it is usually sufficient to run a straight stairlift track up the length of the stairs.
Learn more about Straight Stairlifts
Where there are bends in your staircase you will require a curved stairlift. We will measure your stairs and take a camera survey, before details are sent to the manufacturer to fabricate the bespoke rail.
Learn more about Curved Stairlifts
Stairlift Servicing & Aftercare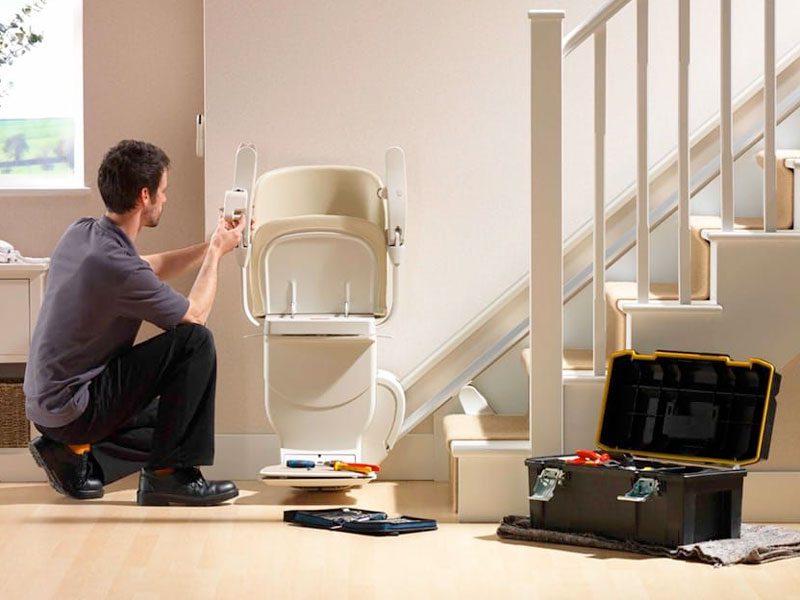 You might be able to apply for a grant (Disabled Facilities Grant) from your local authority for a stairlift.
We offer a choice of reconditioned stairlifts, find out more:
We also have stairlifts available for rent, find out more on our Rent a Stairlift page: