Live independently in the comfort of your home with a Through Floor Lift. Providing you with safe and easy access to upstairs, it enables you to regain your whole living space again.
Dolphin South West are able to install and service a range of Through Floor Lifts. We have been helping people throughout Devon solve access problems in their homes since 1996 and offer a wide range of Through Floor Lifts to suit your needs.
What is a Through Floor Lift?
Through Floor Lifts are a modern and unobtrusive solution for access within the home. These lifts maximise the space available to you and are installed with the latest safety features as standard. Wherever you are, the Through Floor Lift can be moved quietly and discreetly, either upstairs or down, leaving you the full use of your living space.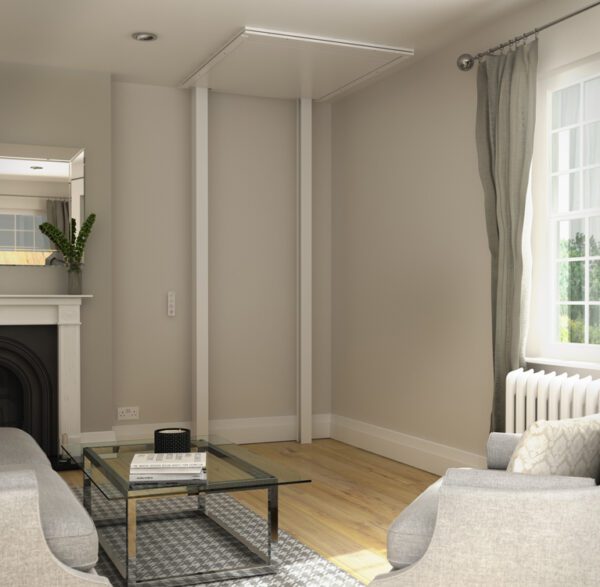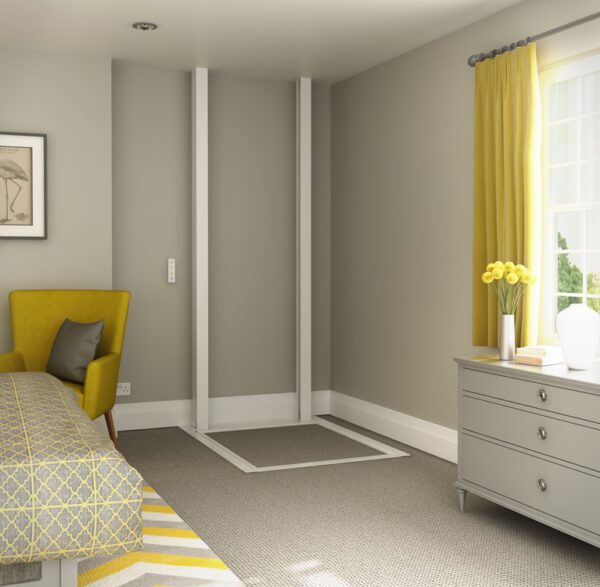 Through Floor Lifts we recommend
The Harmony Unenclosed Wheelchair Through Floor Lift can be used seated in a wheelchair, or on an optional fold-down seat. The Harmony features a selection of car sizes, so you are sure to find a model that perfectly meets your needs. Terry Lifts use an ingenious car design and integral ramp so the Harmony wheelchair lift is only fractionally larger on the outside than it is on the inside - saving valuable space in your home.
If you don't use a wheelchair, the Harmony Compact seated model requires just two thirds of the space of the Harmony Standard.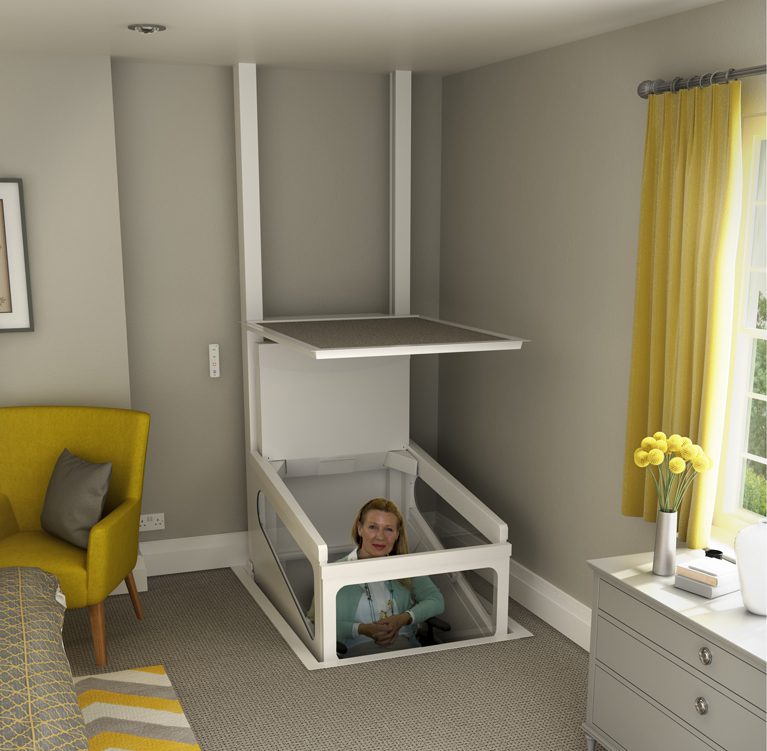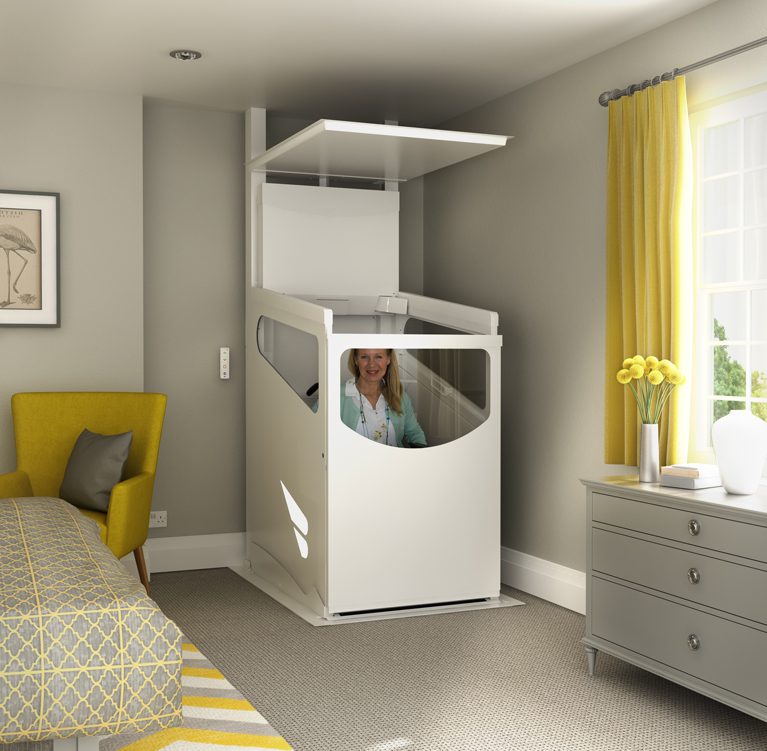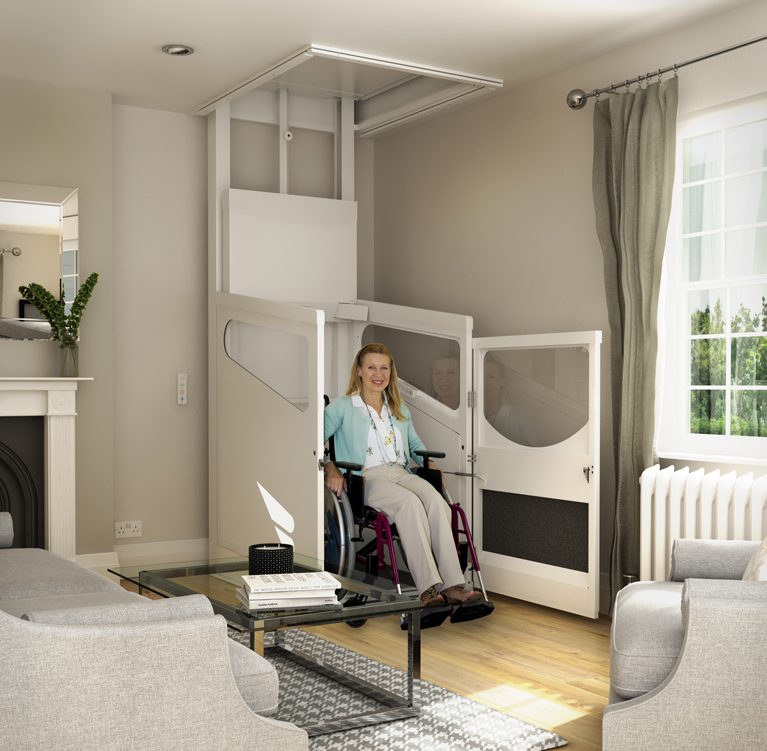 Operation is simple. Having called the lift from the easily accessible wall control switch, the car door can be opened by pressing a second switch. The integral ramp allows easy wheelchair access and a button inside the car closes the door. A push of the appropriate direction button signals the car to travel up or down. The aperture ceiling panel is automatically lifted or replaced en route. To exit the car, simply follow the procedure in reverse.
---
The Harmony Through Floor Lift is equipped with all essential safety features as standard. It has pressure sensitive surfaces as well as safe edges, which gently stop the lift if it is obstructed. A battery back-up system returns it safely to the ground floor in the event of a power failure.
For the safety of your home, the Harmony features fire sealing and protection, including smoke detection. Your ceiling and floor will have the same fire integrity as before the aperture was cut – whether the lift is parked upstairs or downstairs.
The installation of a through floor lift is straightforward and our expert installers keep disruption to a minimum. During the initial survey visit, we will advise of any necessary preparatory work required (e.g. radiator replacement, pipework or electrical work) and we'll provide a quotation  for the full works and installation.  Following the preparatory work, the lift can be fitted in less than two days.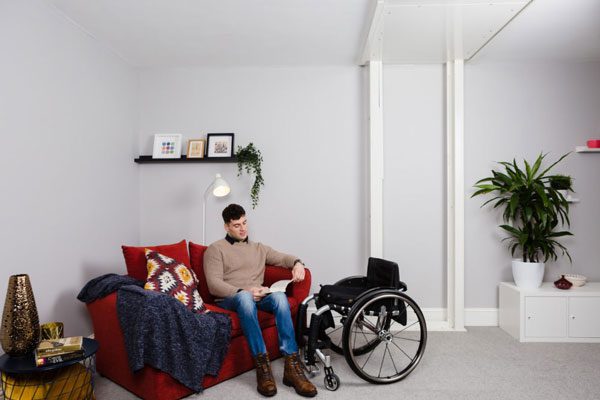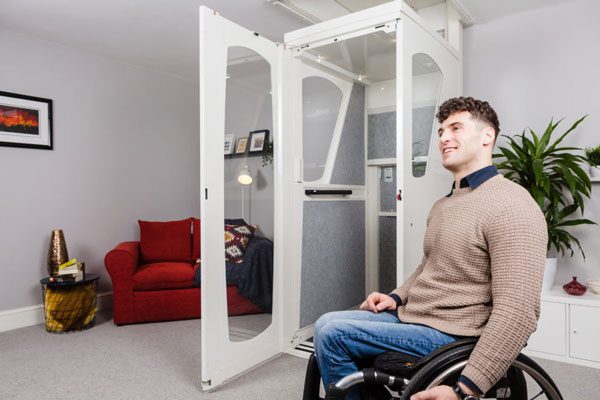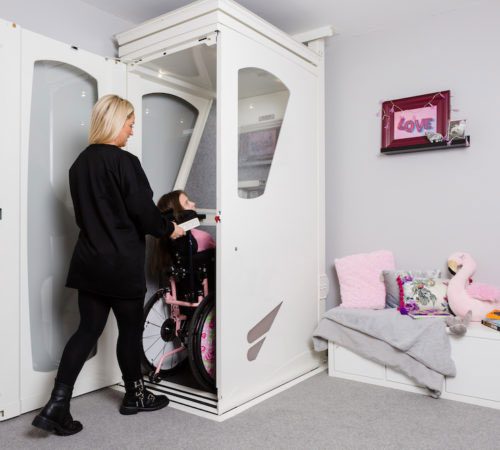 The Harmony FE Homelift offers you a choice between three different models: Compact, Standard and Longer Wider.
The Compact model is ideal when you are looking for a simple, space-saving solution for getting up and down the stairs in your home. It is an affordable and versatile alternative to a stairlift.
The Standard model features a slightly larger car, with enough space to accommodate a wheelchair user, with easy access and egress, and the option of a powered door.
The Longer Wider model can accommodate a wheelchair user and a carer. It has the same features and options as the Standard model.
There are many optional finishes available so you can customise the lift to suit your home perfectly.
Simple, no fuss installation
Installing a through the floor lift at home no longer has to mean building new walls or remodelling entire rooms. Today, even home wheelchair lifts can be cleverly tucked away – so you don't have to sacrifice large amounts of usable space, or even compromise on your home decor to fit one in.
Installation of the Harmony FE Homelift is quick and simple. The lift does not require a shaft, so the disruption to your home is minimal. Our trained surveyor will survey your home and provide you with a written, no obligation quotation, free of charge. Should you decide to proceed, we can carry out all the necessary preparatory works and manage the full installation hassle free – which typically takes less than two days.
The Stiltz Duo+ Through Floor Lifestyle Homelift will fit discreetly into any home thanks to its compact and elegant design. With an attractive curve and clear car body, it fits with any style or décor. The versatile design of the lift allows for various applications when installing in the home; including a stairwell void, cupboard, corner of the room or you could even make a feature of it by placing it in the centre of a hallway (or room).
Using no more electricity than your kettle, you can be sure you're doing your bit for the environment too as each module plugs into a standard socket, whilst still being able to transport two people up one floor in less than 30 seconds.
With the option for a Perch or for a Drop-down seat, the Duo+ Through Floor Lifestyle Homelift is suitable for those who are finding the stairs increasingly difficult.
Watch the Stiltz Duo+ Video: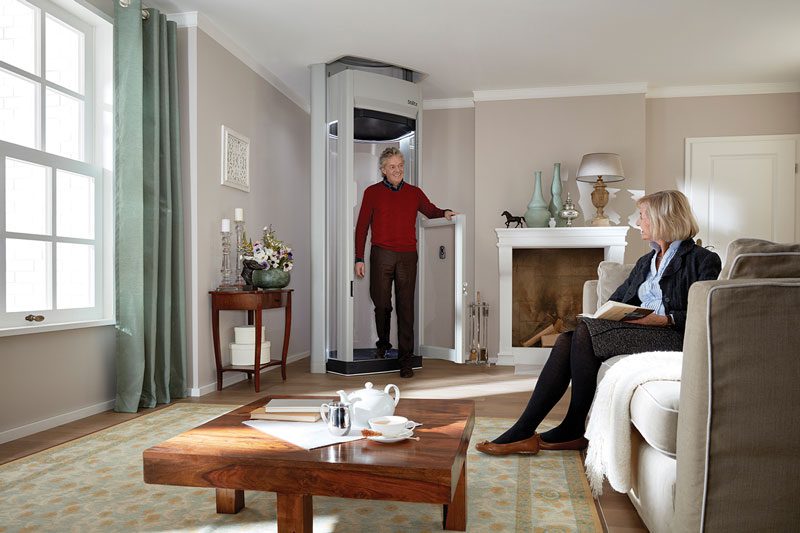 As standard, the Duo+ is finished in grey, while the Duo Classic lift exterior is a neutral cream to match the interior lining. The interlocking door is produced to half hight and benefits from a finish to match the rest of the lift. There are two remote controls that can help when using the lift to transport heavy or awkward items.
Small footprint just 0.55m2
Fast installation
Quiet travel
Economical
Unique Dual Rail system
Compact drive system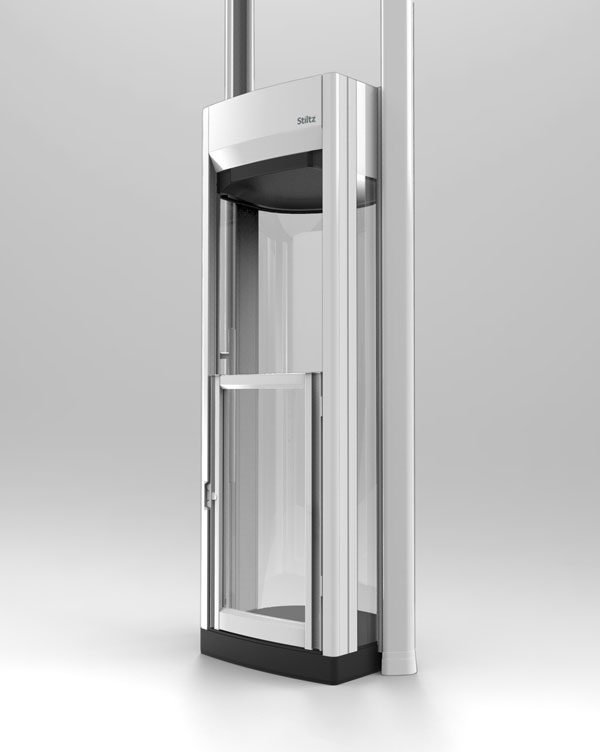 The Stiltz Trio+ is slightly larger size and is designed to comfortably carry a full-sized wheelchair or up to three people, making it ideal for those with disabilities. The rails are discreetly recessed behind a wider entrance or exit, and a gently angled integral ramp creates a design that will blend seamlessly into your home.
The Trio+ Homelift uses minimal power while in use and travels very quietly. Unique to the Stiltz design, the straightforward features of this lift make it available as a Thru Car with two doors facing each other or as a single-door configuration.
The Trio+ is also finished in grey as standard and comes with two remote controls.
The internal LED downlights, on all Stiltz Homelifts, turn on upon entering the lift and remain on until the lift is exited. Each lift comes with a half-height door as standard, with light curtain sensor for safety. If there is a power cut, there is a battery back-up system that will safely bring you down to the lower level of your home, whilst an internal phone means you can be sure that help is always at hand even whilst travelling inside the lift.
Watch the Stiltz Trio+ Video: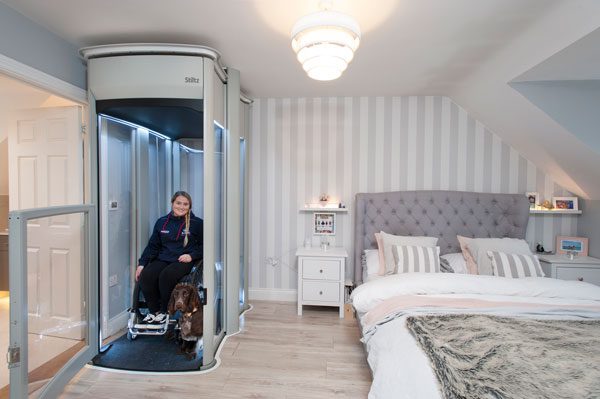 ---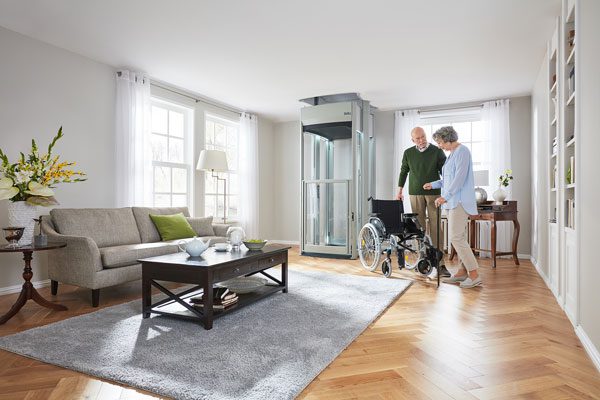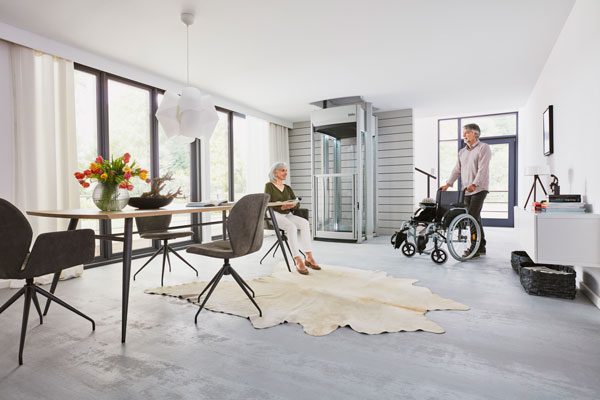 ---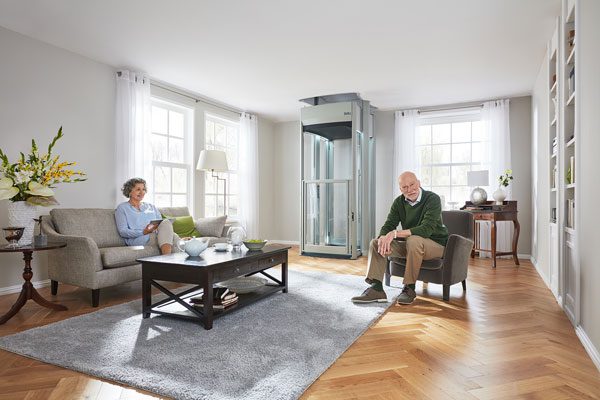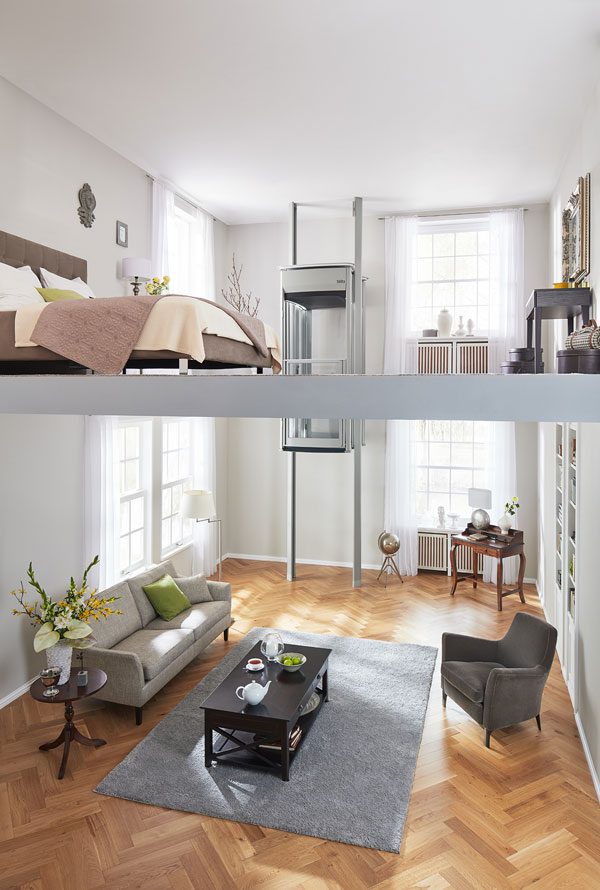 Small footprint just 1.25m2
Fast installation
Quiet travelling
Economical
Unique Dual Rail system
Compact drive system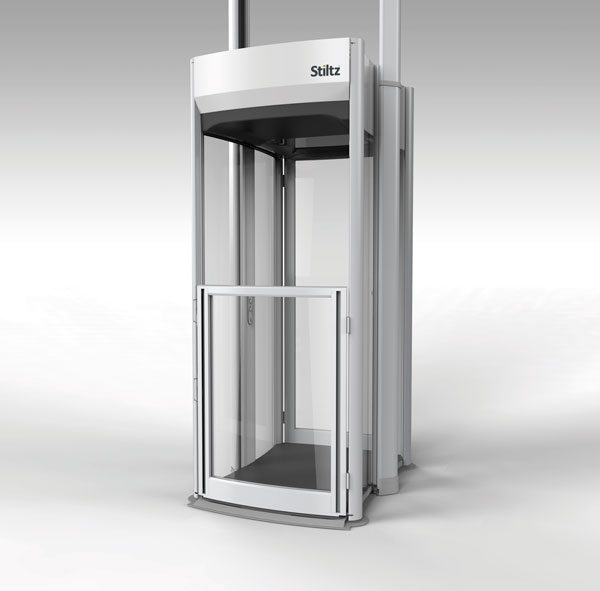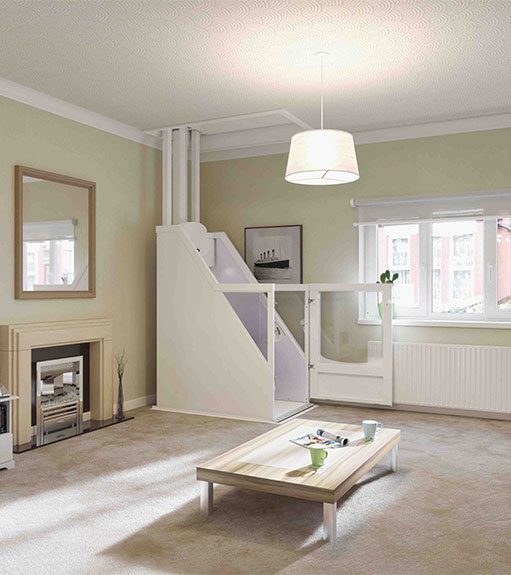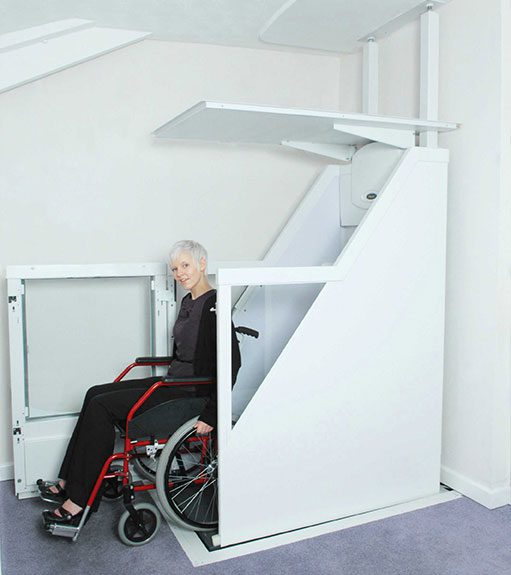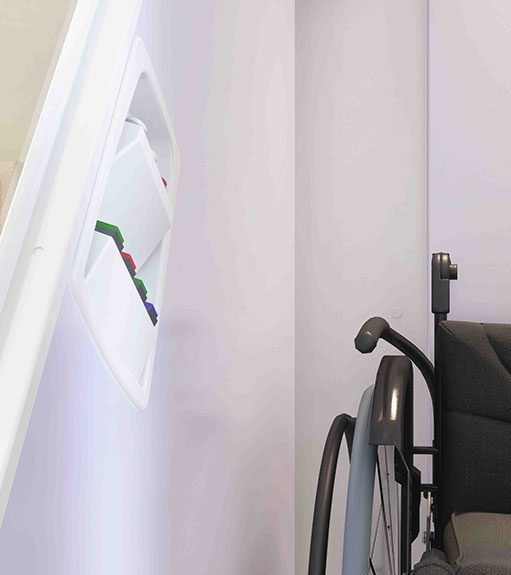 Sensors on the top and bottom of the lift car.
In-car alarm.
Fire seal.
Easy to use internal controls with other control options available.
Through Floor Lifts provide a modern and unobtrusive solution to mobility in the home. Let us help you make the right choice.