We have a large range of straight stairlifts for quick and easy installation throughout Devon. We offer a free, no obligation survey and you can even come to our showroom to see and try our various makes and models and discuss your requirements with an expert from our team.
What is a Straight Stairlift?
A stairlift is a motorised seat or platform that runs up and down a staircase on a rail. Where there are no turns or complex bends in your staircase it is usually sufficient to run a straight stairlift track up the length of the stairs. This track is fixed to the stairs, making fitting and removal straightforward with minimal disturbance.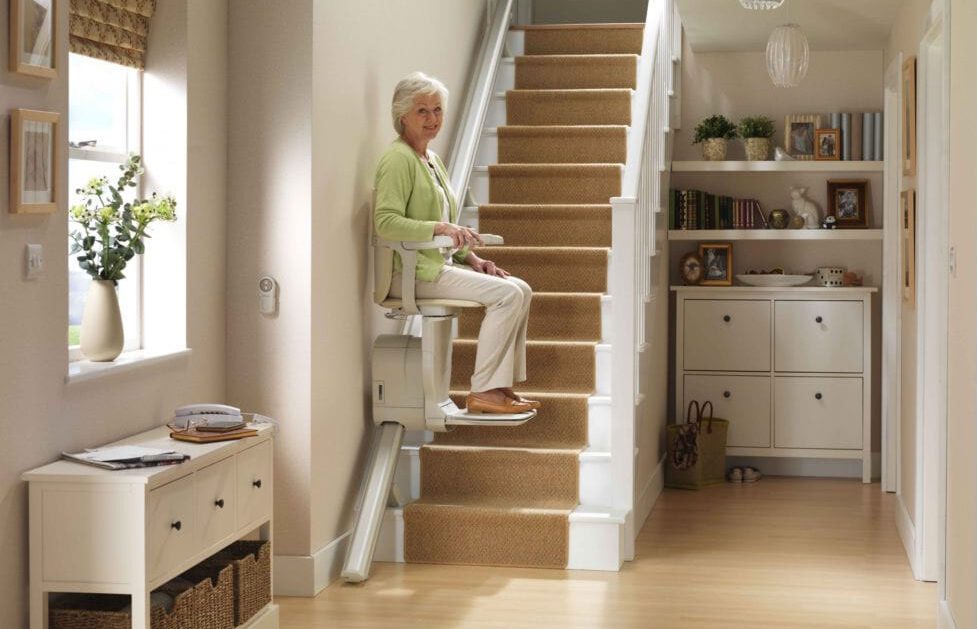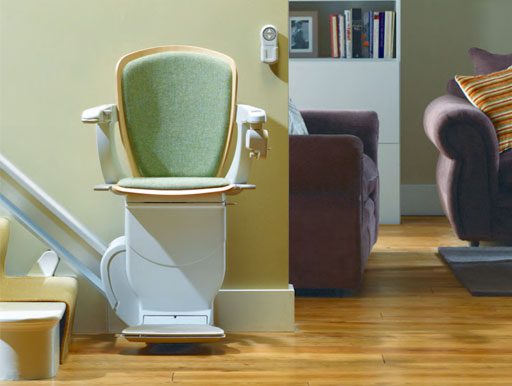 Straight Stairlifts we recommend
The Stannah 600 Siena is a slimline stairlift for straight stairs. The Siena stairlift combines fresh, contemporary styling with the best in stairlift engineering.
The Siena comes with a slimline rail that make the best use of space and with easy fold – just fold the arms then the seat, which is linked to the footrest, and the chair neatly folds away – so you can continue to use the stairs as usual if and when you want to.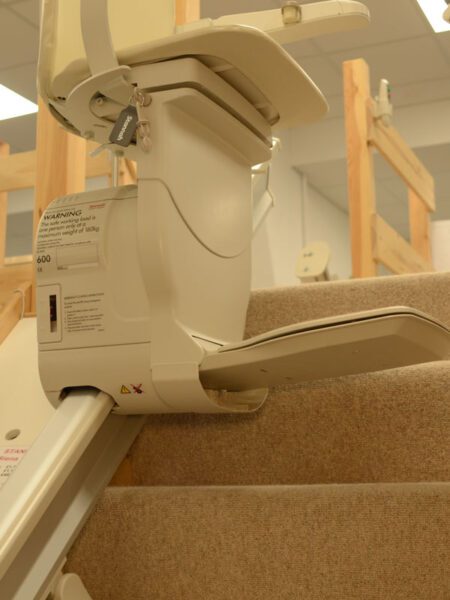 Safety and ease-of-use are built into the Siena. The standard seatbelt gives added security along with sensors that bring the stairlift to a gentle stop if the stairlift is obstructed and removable keys to immobilise the stairlift if required.
The seat to footrest height can be adjusted between 390 and 490 mm (15.4 - 19.3") and there are 2 seat widths available.
Stannah's most popular stairlift, a smart addition to any home
Wide range of woven or vinyl upholsteries
No bending down with optional automatic footrest fold button
Available in two seat widths
Manual and powered swivel seat options
Ergonomically designed seatbelt
Light touch controls
Manual and powered folding options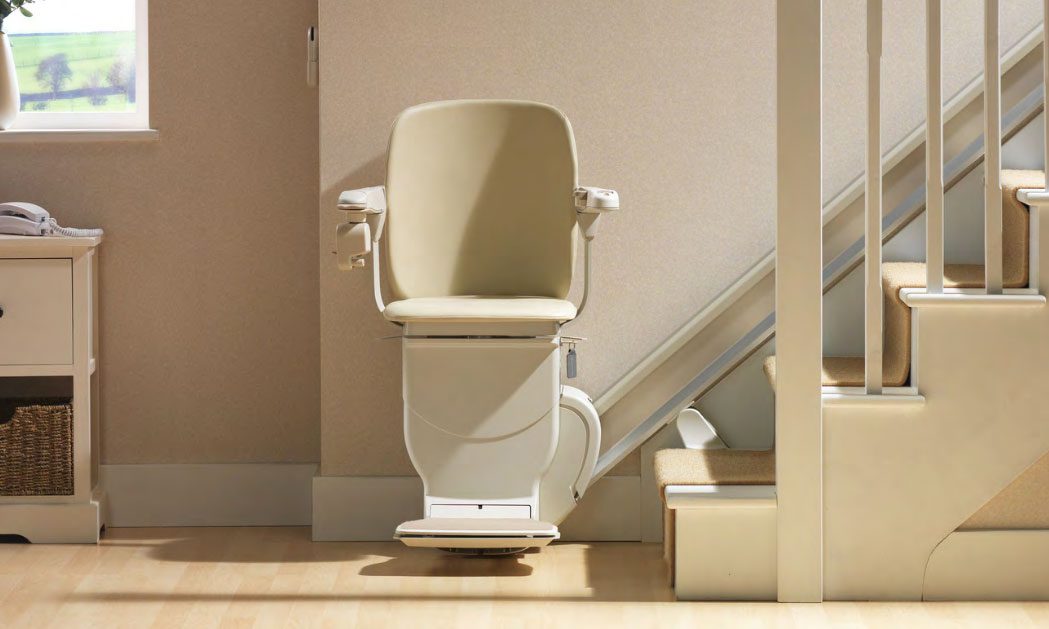 Designed specifically for people with limited flexibility, the Stannah Sadler stairlift is a totally different concept in stairlift design.
The Sadler stairlift offers an alternative to traditional and perch-style stairlifts, helping users maintain a more upright posture at the same time taking as much of the weight through the seat, minimising the weight supported by the legs.
The Sadler seat is available for straight and curved stairs, although a 260 twin rail has to be used.
Perfect for those with limited movement in knees and hips
Slim stairlift profile makes it ideal for narrower staircases
Tilted seat for easier entry and exit
Immobiliser seatbelt prevents use until you are safely seated
Available in different heights to suit both taller and shorter people
Ergonomically designed seatbelt with immobiliser
Light touch controls
For specifications and options including upholstery and colour choices browse the Stannah Sadler brochure. The Sadler chair can be used for both curved and straight stairlifts.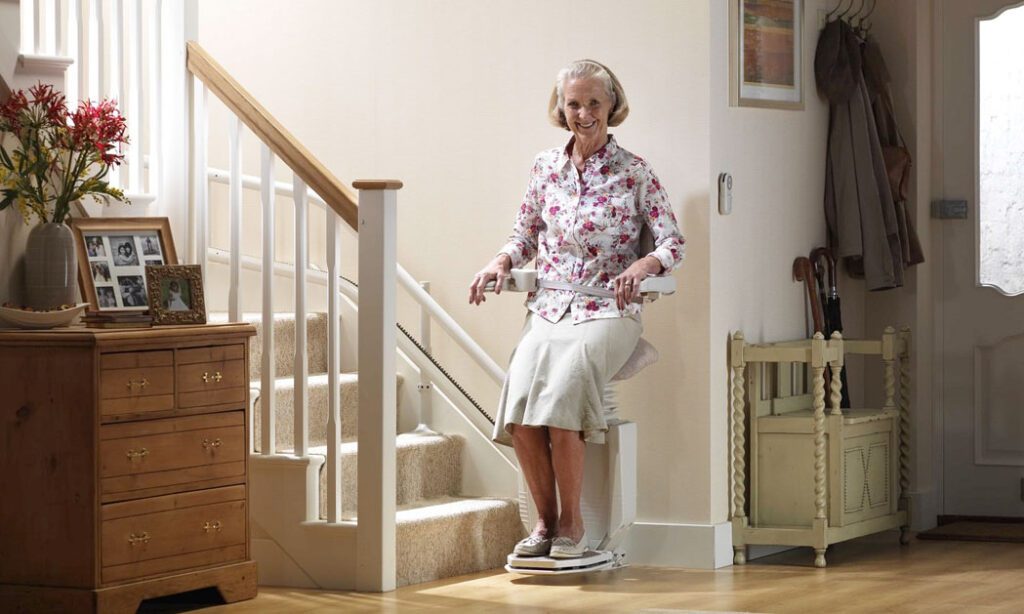 The Starla stairlift is Stannah's most elegant design and has helped thousands of people regain freedom of movement around their homes.
As the most customisable stairlift in the Stannah range, it has a host of features that ensure it is not only right for your stairs, but also your home and your life. The Starla is also compatible with all three of our rail types – straight, bespoke curved and modular curved so whatever your requirements, we're confident we have a solution for you.
Stannah's most elegant and customisable stairlift
Slimline straight rail with foldway chair for minimum footprint
A range of stylish vinyl and fabric upholsteries available with or without wood trim
No bending down with optional automatic footrest fold button
Ergonomic seatbelt, easy to use with just one hand
Manual and powered swivel seat options
Ergonomically designed seatbelt
Light touch controls
Manual and powered folding options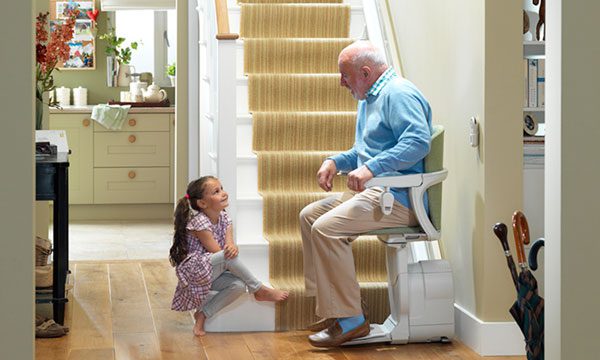 The HomeGlide Extra Stairlift is the premium model in the Access BDD range. As standard, the HomeGlide Extra comes with a linked footrest. This feature makes it almost effortless when unfolding the chair as the footrest is linked to the seat. The footrest lies just 97mm from the floor, making getting on and off the seat as easy as possible.
The HomeGlide Extra uses a seat which positively influences your posture while offering maximum comfort. There are four different seat heights to choose from providing you with the most comfortable seating position possible.
With a choice of fabric colours and compact dimensions, HomeGlide Extra is an elegant and attractive addition to any home. The HomeGlide Extra has the simplicity that allows the stairlift to be installed very quickly. Fitted directly onto a staircase cleanly and discreetly, the stairlift glides effortlessly along an aluminium track.
Quick installation
2 remote controls
On/off switch as standard
Choice of manual and powered swivel stairlift seats
Battery powered
Seat to footrest link as standard
Weight capacity of 146 kg (23 stone) at a stair case angle maximum of 45 degrees.
Built in soft start / stop
Joystick seat controls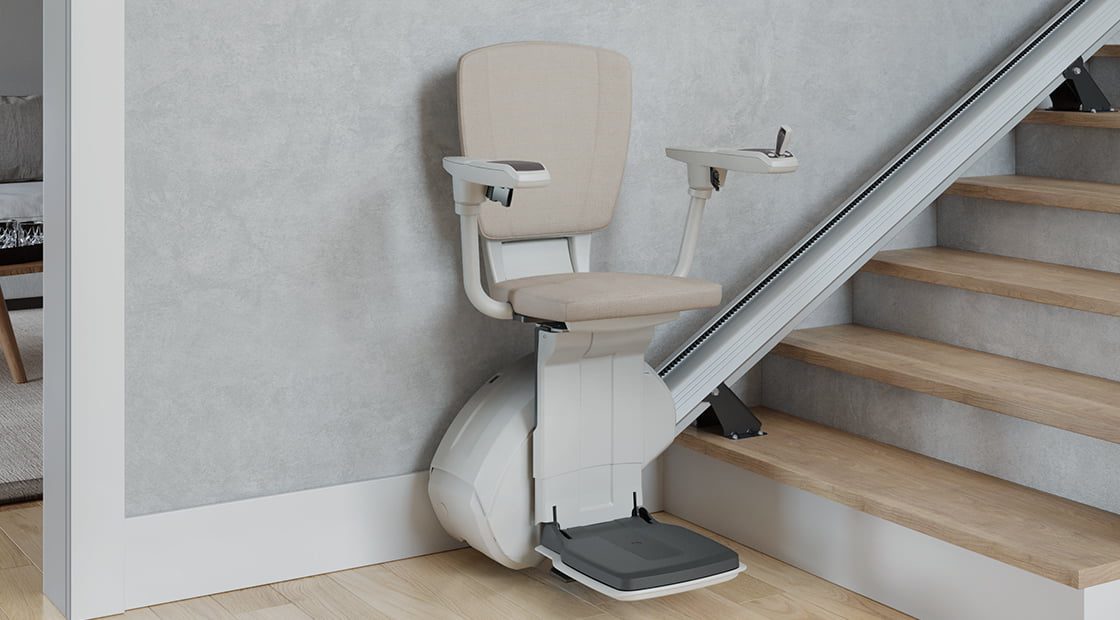 The Elite is a heavy duty stairlift from Bruno which reflects the taste and sophistication of modern users. While serving the need for safety and reliability, it sets a new standard for residential accessibility. With a honeycomb rail design for improved stability and visually coded diagnostics to instantly analyze the unit's operational status, the Bruno Elite is the epitome of form and function.
With a rated weight capacity of 30 stone (191 kg), and sensors that detect any obstacles on the stairs, the Homeadapt Elite moves up and down your staircase with power and efficiency. The offset swivel seat makes the entry and exit position at the top of the landing safer and easier than ever.
The Elite represents more than a decade of research and engineering by Bruno Independent Living Aids, the US market leader in high-quality stairlifts.
Luxury appearance, quality
Multiple options for individual needs, tastes
Exceptionally smooth, quiet ride
Continuously charges unit anywhere on rail
Designed for maximum free space on steps
Vertical rail with covered gear rack for clean appearance
Offset swivel seat; flip-up arms; folding footrest/seat
Dependable service even in power outage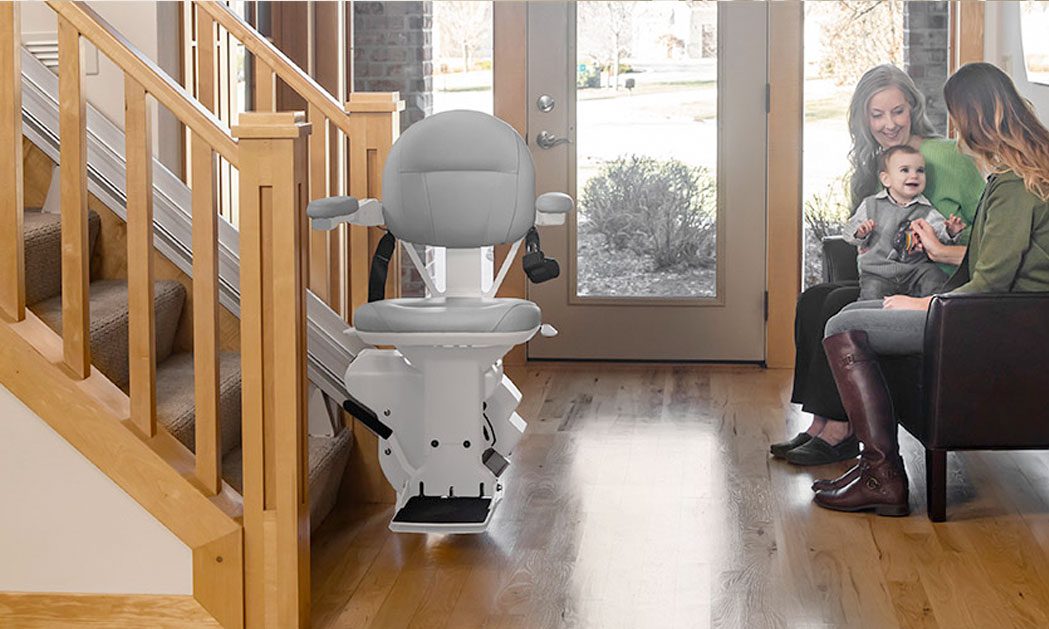 The Handicare 1100 Stairlift is the world's slimmest stairlift. Being slim and compact, the Handicare 1100 can be fixed close to the wall which frees up a lot of space for other stair users to climb the stairs safely. Like all modern stairlifts the seat, arms and footrest fold up when not in use. As the stairlift reaches the top of the stairs the seat will swivel onto the landing so you can get off the lift easily.
Uniquely there is no tooth rack on the slimline rail. This patented feature means there is no grease on the rail collecting dirt and dust. As a result the rail stays clean and tidy. Also, the 1100 comes as standard with safety sensors that stop the lift in case of obstruction.
Stylish compact design
Seat, footrest and armrests can be folded when not in use
Four wheel drive technology with quiet reliable motors
Continuously charges unit anywhere on rail
Seat will swivel at the top landing
Safety sensors will stop the lift in case of obstruction
No tooth rack, meaning no grease or oil and safe easy cleaning
STRAIGHT STAIRLIFTS MANUFACTURERS
Contact us to make an appointment